Sponsoring a Personalized Honor and Remember Flag: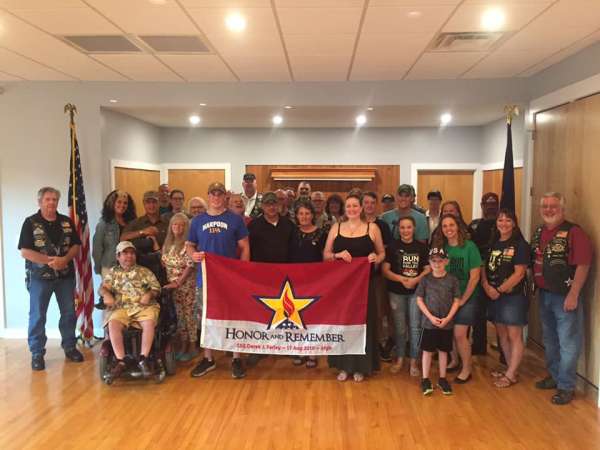 Our country was founded and maintained on individual separate lives, names not statistics. One life upon one life, precept upon precept, similar to the building blocks of a foundation, our country continues to remain strong and free.
A unique feature of the Flag design is the option to personalize it, to actually carry the name of a friend or loved one as part of its structure. Not only can the flag be flown in general but it can also be displayed in specific honor of one lost.
It is our desire and organizational goal that every family that lost a loved one in military service to our country should have a personalized flag. Regardless of the era, currently as far back as WWII, we are working on the task. A flag that proudly represents that special life lost and compliments the hundreds of thousands that will fly across this nation in grateful respect.
This mission includes partnering with individuals, organizations, corporations and government entities to seek out Gold Star families and help us by sponsoring and presenting Honor and Remember Flags.
Here are several examples of how partnerships are working:
Retired sailors from the FRA, Branch 5, Norfolk VA, collected funds to provide flags for all 17 families that lost loved ones on the USS Cole bombing. Personalized flags were presented at a special ceremony on October 12, 2008 the 8th anniversary of their October 12, 2000 sacrifice.
Cpl Matthew Drake, lone survivor of a suicide car bomber and mother Lisa Schuster donated and presented personalized flags October 15, 2008 to the three mothers who lost their soldier sons in Iraq on October 15th, 2004, the fourth anniversary of their loss. (See newsletter issue 4).
Recently anonymous donations were made to prepare flags for all of the Ft Hood families affected by the shootings in Texas Nov 2009. We are working on arranging individual presentations for each. We are continuing to work through state chapters in identifying families and arranging ceremonies for Honor and Remember flags to Gold star families in their state. We hope to model this in state ceremonies around the country.
Additionally, independent local veterans organizations are identifying Gold Star families in their areas and sponsoring flags for specific tribute presentations.
Gold Star families who have received flags are now presenting flags to others.
There are hundreds of ways to reach out and honor so many families who gave all. We believe that there are still over 20,000 families yet to individually recognize. We are currently fundraising and taking donations to accomplish our national goal.
If you would like to sponsor a personalized flag please visit our online store or donate below. However please contact us if you would like to participate in any other way to help accomplish our mission.